"Argentine Piano Music"

a project by Cecilia Pillado
(see more at www.ceciliapillado.de)
CECILIA VERÓNICA PILLADO, the charismatic Italoargentinian pianist, was born in Mendoza, Argentina.
She is one of the first Argentinean pianists to give the music of her country a central place in her performing repertoire: her two CDs Argentine Piano Music I and II, feature representative works by well-known Argentinean composers as Ginastera and Piazzolla, and the outstanding arrangements of popular Tangos bear testimony to this.
She graduated with honours from the National University of Cuyo in her home city. With a scholarship from the Friedrich-Naumann Foundation she continued advanced studies at the University of Arts Berlin and at the "Mozarteum" in Salzburg. She also participated in master courses directed by Franz Leygraf, György Sebök, Leon Fleisher, Maria Curcio, and Paul Badura-Skoda, studied Composition, and completed her classical preparation with Jazz Improvisation seminars.
She has won a number of prizes and awards — among others the "Teresa Carreño OAS Award" in Venezuela, and has performed in the United States, Europe, South America and Asia at renowned concert halls like the Philharmonie and Konzerthaus in Berlin, Teatro Colón in Buenos Aires, Sala Verdi Milano, Teatro Comunale Bologna, OAS Hall at the Kennedy Center, Washington D.C.
Her incessant exploration of all facets of the Performing Arts has led her into the realm of acting. As an actress she participated in independent theatre groups, and played parts in German television series and films.
---
"Cexilia's Tangos"

Argentine Piano Music III TaMa261219303

CD: 2016
Digital: 2015

Tangos: Adiós Nonino, Balada para un loco, El Choclo, Sur, Tiempos Viejos.....
TT: 59:20 Min.
Cecilia Pillado (Piano)
An interesting selection of traditional, popular tangos from the Argentinian fatherland, in brilliant and virtuosic arrangements by the pianist.
[…] Ms. Pillado's tango arrangements are – like her original compositions – the work of an artist for whom the piano has no secrets. The instrument's possibilities are fully used to underline the different character of each tango. Once in a while the listener is reminded of Ms. Pillado's training as a Classical pianist, as echoes of Chopin, Tchaikovsky or Rachmaninoff – not least the eye-twinkling quotation of Für Elise at the end of Taquito militar – are heard within the texture of the piano part.
© Carlos María Solare
"These Tangos are dedicated to my mother. She always had the text of some tango on the tip of her tongue to comment on everyday situations. A spoken word was enough for her to start singing a tango verse reflecting a deep popular wisdom and particular philosophy of life. She was my link to the tango.
But another "mother" also appears at times in my mind in the form of luminous images: the natural surroundings in the Argentine Pampas, the open countryside, where we would ride horses and play to our heart's content.
All of these feelings and nostalgic but powerful memories flow into the music of this CD. That's why it is my personal favourite".
Cecilia Pillado

JUAN SALOMÓN (1916-1979)
Páginas vividas
ASTOR PIAZZOLLA (1921-1992)
Adiós Nonino
ELADIA BLÁZQUEZ (1931-2005)
Sueño de barrilete
JUAN CARLOS COBIÁN (1896-1953)
Los mareados
JUAN SALOMÓN (1916-1979)
Intelectual
ASTOR PIAZZOLLA (1921-1992)
Balada para un loco
CECILIA PILLADO
Choclo al piano con polenta
(Variations on A. Villoldo's "El choclo")
FRANCISCO CANARO (1888-1964)
Tiempos viejos

ANÍBAL TROILO (1914-1975)
La última curda
ANÍBAL TROILO (1914-1975)
Sur
JULIÁN PLAZA (1928-2003)
Nocturna (Milonga)
CARLOS GARDEL (1890-1935)
El día que me quieras
PINTÍN CASTELLANOS (1905-1983)
La puñalada (Milonga tangueada)
ASTOR PIAZZOLLA (1921-1992)
Verano porteño
ASTOR PIAZZOLLA (1921-1992)
Contrabajeando
ASTOR PIAZZOLLA (1921-1992)
Milonga en ay menor
MARIANO MORES (*1918)
Taquito militar (Milonga)
---
"Tango Malambo"
Argentine Piano Music I TaMa261219301

CD und Digital:
2016
Composers: Ariel Ramirez, Alberto Ginastera, Carlos Guastavino, Astor Piazzolla, Cecilia Pillado
Cecilia Pillado (Klavier)
TT: 54:56 Min.
Table of contents

ARIEL RAMIREZ (*1921)

Carnavalito
Bailecito
Cueca
Alfonsina y el mar

ALBERTO GINASTERA (1916-1983)
Tres danzas argentinas op.2
(Drei Argentinische Tänze op.2)

Danza del viejo boyero
Danza de la moza donosa
Danza del gaucho matrero

ALBERTO GINASTERA (1916-1983)
Suite de Danzas Criollas op.15
(Kreolische Tanzsuite op.15)

Adagietto pianissimo

Allegro rustico
Allegretto cantabile
Calmo e poetico
Scherzando e Coda: presto ed
energico

ASTOR PIAZZOLLA (1921-1992)

La muerte del ángel
Amelitango
Meditango
Retrato de Alfredo Gobbi
Michelangelo 70

CARLOS GUASTAVINO (1912-2000)

Romance de Cuyo

CECILIA PILLADO

Malambo percu-piano
---


"Tango Malambo" (The Original) TaMa261219300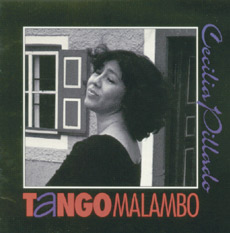 Composers: Ariel Ramirez, Alberto Ginastera, Carlos Guastavino, Astor Piazzolla, Cecilia Pillado
TT: 54:56 Min.
Cecilia Pillado (Piano)

Buy from us
From the booklet:
[…] The five featured composers have one thing in common, namely that all of them have turned to Argentinian folk music for their inspiration. The results, however, could not be more different.
[…] Ariel Ramirez uses technical means from European classical music to create pieces which are closely based upon rhythmic and melodic models from Argentinian folklore.
[…] Ginastera's development of rhythmic elements and his use of polytonality give his music a "contemporary" flavour that has led to his being thought of as a "South American Bartók".
[…] Piazzolla has created an unmistakeable style which unites tango with elements of jazz and classical music. […] Although Carlos Guastavino is just two years older than Ginastera, his naively lyrical music is more in accordance with the ideals of the previous generation of composers.
[…] The Malambo begins by using the piano as a percussion instrument before starting improvisations on the three notes which constitute the "guitar" cadence.
© Carlos María Solare
The primeval force of the gaucho dance … The pianist feels herself – in the best sense of the word – "at home" in Argentinian music … The listener gets an interesting and, at the same time, representative view of it and can't resist the colourful, powerful and rhythmically animated sounds …
Die Welt

…Cecilia Pillado ist well known in Berlin's professional circles as a musician of superior quality. … A CD full of musical stimulations and high pianistic art.
Neue Musikzeitung

Attractive and technically impeccable, "Tango Malambo" demonstrates not just Pillado's talent, but also her professional level.

UNO, Mendoza, Argentina
… Pillado sees herself "as a musician first, and only then as a pianist". Nevertheless, she exhibits an exquisite taste precisely at the keyboard, in all matters concerning colouring, pedalling and the production of a rounded tone. And yet her self-estimation is correct: the idiomatic and natural way in which she characterizes the different compositions in her recital of Argentinean music is conquering in the most charming way.
Magazine Applaus, Munich

---
"Cuántas estrellas"
Argentine Piano Music II TaMa 261219302

CD und Digital:
2016
Composers: Alberto Ginastera, Carlos Guastavino, Cecilia Pillado
Cecilia Pillado (Piano)
TT: 52:30 Min.
Reeleased after "Tango Malambo", it confronts the technical demanding Ginastera's first piano sonata, which was soon been played all over the world after been composed in 1952, with the Guastavino's "Preludes on Argentinian Nursery Rhymes", a master piece of the small genre and composed also in the same year. These pieces contrast with the "Amazones Variations", Pillado's composition inspired by esoteric philosophy.
From the booklet:
[…] Ginastera's Piano Sonata is a good example of what the composer termed "imaginary folklore". His "expressive tension" has a stark Argentinian accent even though no direct quotations or echoes from folk music can be heard in it.
[…] The 10 Preludes by Guastavino could be described as a kind of Argentinian Scenes from Childhood. They are a further testimony to the composer's mastery of the small genre piece.
[…] Pillado's "Amazones Variations" are written in an idiom reminiscent of Scriabin and Ginastera. Jazz and South American rhythms are other ingredients of this composition with a cyclic structure. The different sections follow each other without a break, thus giving the piece the character of a symphonic poem, the plot of which is hinted at through the titles of the individual parts: The Primeval Force, The Male Force, The Power of Love […]
© Carlos María Solare
Press reviews

She is a dedicated advocate of her compatriot Ginastera. In his Sonata, with its ecstatic sonorous cascades, the fervour of her playing leaves nothing to be desired …
Berliner Morgenpost
The "Amazones Variations" showcase the artist's brilliant pianistic art, which expresses every facet of the sound and technical nuances.
Neue Musikzeitung
Rhythms, nothing but rhythms, but WHAT rhythms! Blindingly lit by Pillado's piano playing … Her spontaneous virtuosity and her temperament seem to have no limitations … A recording between Classical music, Postmodernism and Jazz, presented by an electrifying pianist – the best!
Gießener Allgemeine
The 10 Preludes after Argentinian nursery rhymes by Guastavino recall Schumann's Scenes from Childhood: amiable little genre paintings, to which Cecilia Pillado gives the simple conciseness and delicate poetry they need …
Berliner Morgenpost
Table of contents

ALBERTO GINASTERA (1916-1983)
Sonate für Klavier Nr. 1 op. 22 (1952)

Allegro marcato
Presto misterioso
Adagio molto appassionato
Ruvido ed ostinato

CARLOS GUASTAVINO (1912-2000)
10 Präludien über argentinische Kinderlieder (1952)

La dama dama
La flor de caña

Rimorón
Margarita
Bordando para la reina
Una niña bonita
Cuántas estrellas
Un domingo de mañana
La torre
En un coche va la niña

CECILIA PILLADO

"Amazonen Variationen" (1992)